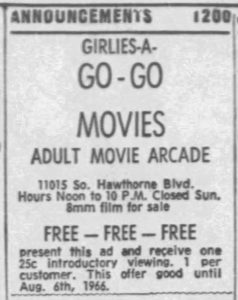 Saturday night, after the last showing in "Da Big" auditorium (the bookstore and peep boths at The Capri of course never close…) Uncle Spicy had his feet up on his desk, stogie entrenched in his mouth, a bottle of some god awful cheap something in reach, and he was flipping through an old LA Times, July 31, 1966 to be precise, (he says he's "tryin' ta catch up on da news") .  After several minutes of scanning the Classifieds ("I found two or tree of my wifes in da Classyfiles") he ran across an ad for an early adult video arcade. This, not surprisingly, got Spicy to "wondercatin'" (his word) if the "old jernt" was still around, which triggered the oft heard appeal, "Get on da interwebs and Gurgle that mudder fudder for me!"
Well, Uncle Spicy's instincts have yet again not let him down: the "old jernt" is still around and apparantly kicking.  Back in the late 1960s it was simply known as the Adult Video Arcade, and today it goes by Wildcat Adult Video.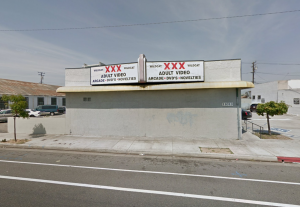 ---

Digging deeper, it seems that the "old jernt" opened around 1965, and was originally run by Louie and Marge; now I'm sure there's a story there if only there was more to go on…

It appears that, in addition to "Topless Watusi Dancers", Louie and Marge were also looking for female musicians.  Ah, the dawn of "adult" entertainment, when there was still showmanship and you were actually entertained, in addition to being stimulated.  But Louie and Marge didn't last long, because by May 1967 New Management had moved in, and changed the name to what it remains today, The WildCat, and by 1968 some guy named "Jack" seems to have been in charge..
Apparantly along with the Live enterainment they also showed films during the 1970s, using a "home type movie projector".  This probably meant 16mm, or maybe even Super8 (doubt it), and probably was just a room with a screen and cheap seating, probably not even real theater seating, perhaps even just lawn chairs.  And there's a distinct possibility the only sound was via a tape recorder playing whatver the poor, yet reliable, sap who answered that ad was in to at that moment.  But we're just going on Uncle Spicy's memory of those places back then, and his memory isn't the best…

---
By 1980 The Wildcat was owned and operated by Al Morrision (Allen Eugene Morrison), who in 1991 was accused of trying to have his wife's assumed lover "offed" ("Dat was da way back den" Uncle Spicy mutered, although I'm guessing he was thinking a bit further back than 1991…maybe).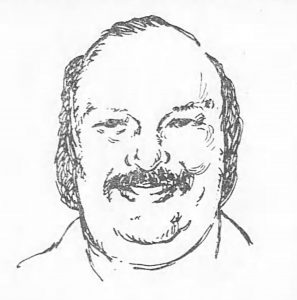 Al had enlisted the help of his friend, Ted Gaswirth, from Miami, who also was in the adult business ("sexually explicit materials" according to the FBI); Uncle Spicy, who had been nearly nodding off, took note of the name "Ted Gaswirth", and mumbled something about being "acquainted" with him at some point; that usually means there was a business relationship of long standing, but I don't pry, I've learned Uncle Spicy will tell me what he wants to, when he wants to. (For what it's worth, Ted Gaswirth was a well known smut peddler, had several run ins with the FBI in the pornography realm, and had "acquaintances" with several mafia figures, including Peter "Sonny Boy" Salanardi, Nicholas Musolino, and Michael Zaffarano himself, someone Uncle Spicy is ADAMANT he never knew, not even as an "acqaintance", which usualy means they he not only knew him, but they were more than acquaintances…)
Getting back to our present story, it seems Ted had tried to hire a hitman, who of course turned out to be an undercover FBI goon.  In early 1992 both Al and Ted were judged innocent.  Uncle Spicy wants me to find the name of their lawyer…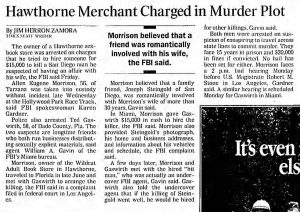 ---
By this time  Uncle Spicy had fallen asleep on the mangie couch in his office, stogie still burning in his mouth, drool running down his cheek.  I carefully removed and extinguished his rancid cigar, left the drool to chart its own course down his face, turned all but his desk lamp out, and left Uncle Spicy to his dreams, which were probably of him sitting in a half-broken lawn chair at some "strip jernt" back in the 1970s, "scoutin' fer da talent", as he always says he was doing, "it was all bidness, none of dat pleasure junk for good old Uncle Spicy".
-Sleep well Uncle Spicy