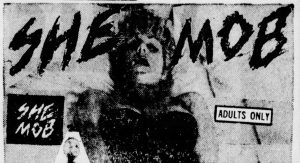 In 1968 a little regional exploitation film called SHE MOB burst onto screens around the country. Filmed in Texas in 1967, it premiered…well, where and when exactly did it premier?  That's exactly what I intended to attempt to figure out in this post.  Read on to see if I was successful or not…
---
Starting with the IMDB entry for SHE MOB, we find that it currently (as ofFeb 12, 2020) indicates SHE MOB premiered on May 17,

1968 in Champaign, IL.  I've grown a very healthy distrust of IMDB, especially when it comes to non-mainstream films, double-especially when it comes to their release/premier dates, triple-especially with a cherry on top when it comes to regional exploitation films, and whole banana-split-sundae-quadruple-especially when it deals with those types of films made before 1990.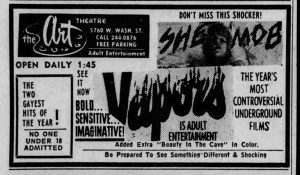 So given IMDB's track record it should come as no surprise that SHE MOB had been in circulation from at least April 30, 1968 The earliest ad I've found as of this writing is from that date Indianapolis, IN, where it was playing with Andy Milligan's VAPORS of all things, and a "lost film", BEAUTY AND THE CAVE, which I believe may have also been a Texas-based film.  So right away we can dispel at least part of the IMDB information.
But you're probably asking yourself, why wasn't the premier in Dallas, or even Texas?  While it's of course possible SHE MOB did receive a "premier", or at least play publicly in Texas (and elsewhere) before this Indianapolis date, I wouldn't necessarily expect it to have had either a big-time Hollywood-type premier wherever it may have occurred, with spot lights in the air and limos and red carpets, nor would I necessarily expect that a "local" premier would have taken place in Dallas, especially given the nature of the film (exploitation), the fact it was a small regional film with no prior distribution in place, and also because it was made (more than likely) under the radar in Dallas and the crew had probably "borrowed" a lot of the equipment from the local TV stations they worked for. A big fancy to-do might have raised some questions best left unasked…That being said, it is believed that the Producer (and possible director) Maurice Levy did have private screenings at his house early on, so I would think SHE MOB probably did have one hell of an "opening" night, if the stories I've read about Levy are remotely true.  But was this Indianapolis screening the de-facto "premier"?
---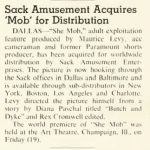 A little more digging uncovered the April 22, 1968 Boxoffice magazine which had a notice about SHE MOB premiering on April 19, 1968, at the Art Theatre, in Champaign, IL., and being acquired for distribution by Sack Amusement. So it seems that IMDB may have got at least part of the premier info correct.  As an aside, the Art Theatre is of note because it was one of the first theaters that eventually made up Louis Sher's national Art Theater Guild empire, and helped pave the way for "free speech" on the screen throughout the 50s, 60s, and into the 70s. And Sack Amusement makes sense because they were a Texas (and Baltimore) based B-Movie distribution outfit.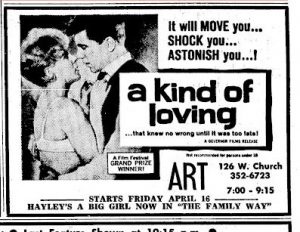 Given that we now had a good primary source for the date and the city, I sifted through the Daily Illini newspaper (the local college paper) for the months of April and May 1968, hoping to find THE smoking-gun ad for SHE MOB's premier, but came up with almost nothing.  In fact, I found that on April 19 instead of  an ad for SHE MOB, another film, A KIND OF LOVING was advertised at the Art Theatre.  Another side note, the ad indicates that THE FAMILY WAY, Hayley Mill's first grown-up role, "Starts Friday April 16″…which of course was the wrong date (it should have read April 26).  So, as always, be wary of what you read in the paper.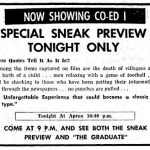 But I did say I came up with "almost nothing".  That's because over at the Co-Ed 1 Theatre there was a "SPECIAL SNEAK PREVIEW – TONIGHT ONLY" on April 19.   Could THIS have been the SHE MOB premier?
Probably not: after digging further and looking at the ads in the days leading up to April 19 it became evident that the "sneak preview" was more than likely a war film, specifically about Vietnam.  It's possible that this could have been the Bobby Davis/Aldo Ray film A TORN PAGE OF GLORY, which was one of the earliest films to deal with Vietnam. <EDIT: It's been brought to my attention that ATPOG proabably wasn't this early, despite IMDB indicating it was 1968.  See what I mean about IMDB?!  But whatever film played at the CO-ED 1 it doesn't sound anything like SHE MOB.>
But after continuing to dig into May I did find something…
---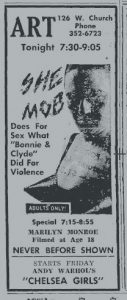 The very next month SHE MOB did play at the Art Theatre, from May 17-23.  So IMDB was correct inasmuch as SHE MOB played in Champaign on May 22, but yet that wasn't even the first night it had screened there, little-alone a premier.  So close, but no cigar.  What I think probably happened is some lazy researcher happened to see the May 22 Daily Illini and saw the words "NEVER BEFORE SHOWN", and assumed that meant this was the SHE MOB premier. But what that line is actually referring to is not SHE MOB, but the "Marilyn Monroe" film they were also screening with it.  The irony of that is that not only was this in no way the first time that the Marilyn Monroe film had been shown, it wasn't even the first time that film had been shown at in Champaign or at the Art Theatre (it had screened the previous week as part of the Underground Film Festival). And to make it even better, it wasn't even Marilyn Monroe!  This would have been the now-debunked Monroe porn loop from the 1940s, APPLE KNOCKERS AND COKE, which actually had Arline Hunter in it, who looked enough like Monroe in the murky b&w celluloid to have fooled generations of smoky stag parties down at the lodge.
---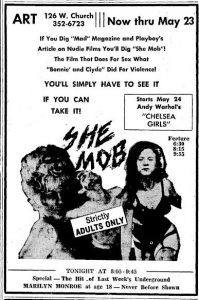 Given all of that, are we any closer to determining when/where SHE MOB premiered?  Well, I have two possible theories to present to you:
Theory 1 – SHE MOB didn't screen in Champaign at all until May 17, and the bit in Boxoffice was just a publicity ploy by Sack Amusements to drum up bookings.  In this case we can say that SHE MOB did NOT premier in Champaign, given it was already playing in at least two other cities by that date.
Theory 2 – SHE MOB did premier at the Art Theater on April 19, perhaps being 4-Walled by the producers to entice Sack Amusements into (sub)distributing it, or by Sack themselves to drum up bookings.  But in any case no records of that screening (again, outside of Boxoffice) have surfaced yet, so this is still just a somewhat wild guess.
So if I had to make a call, I'd go with Theory 2, the 4-Wall theory.  Boxoffice is/was a fairly reputable magazine, and Champaign did seem to have their fair share of "sneak previews".  So while it might not have been the mythical Hollywood-style Premier, I would bet a decent lunch at Louie's Snack Bar (in the lobby of Capri Show World) that SHE MOB had it's first public screening at the Art on April 19, 1968.  And since we're already in the world of speculation, I'd also like to think that other "sneak preview" at the CO-ED 1 was A TORN PAGE OF GLORY, if for no other reason than that would mean two distinct audiences in Champaign would have left their respective theaters thinking "WTF did I just see?"  But again, until we get an article or some other hard evidence, it's just a theory.  Of course it's also still very possible that SHE MOB "premiered" somewhere else at an even earlier date.
So at the end of this little saga I guess we're not really any closer to finding out the answer, but we have least muddied the waters a bit, which is nice.
---
But there is still hope.  There is a renewed interest in SHE MOB after a totally restored 4k version was released by AGFA and Something Weird Video.  And the team at Vintage Texsploitation are looking far and wide for the missing backstory to SHE MOB, so hopefully someday soon we'll have the "missing link", as it were, as to when and where the first unsuspecting audience had Big Shim, Sweety East, Twig, Baby, and the other degenerates sprung on them.
-Spicy