Uncle Spicy has a favorite joke that goes something like this (it's better heard than read btw):

Two old Jewish guys were sitting on the park bench feeding the birds and waiting to die. A scraggly old lady wearing too much makeup, a gallon of perfume, and dressed in a long fur coat down to her bony ankles walks up and flashes the first one, yelling "Super Pussy!"

Not getting a response she turns to the second guy, flashes him as well and again yells "Super Pussy!", which receives nothing more than a blank stare from the codger.

Having now been ignored by both old farts she grudgingly goes on her way.

Once she's gone the first guy turns to the second guy and says "What was that she said?"

"Super pussy" he responds.

"Meh, I'll have the soup!"
So what, other than a poor attempt at humor, does this have to do with our Beloved Bat Pussy? Well, "not much" is probably the honest answer, but perhaps we can use it as an entry into the topic of a potential (distant) relative of Bat Pussy…
(And if you think we're using Bat Pussy as click-bait to get you here all I can say in my defense is this was Uncle Spicy's idea…)
In the early 1970s, around the same time Buddy and Sam decided to start making a fuck film in Gotham, an author/artist that went by the name of Fred Engleman was knee-deep in a series of comic (or perhaps comedic) books which, not unlike Bat Pussy, would parody certain super heroes and sci-fi characters popular at the time. And while old Fred unfortunately didn't quite take this to the extreme of a Bat Pussy book, he did give us, as I'm sure you've surmised by now, "Super Pussy" ("The Hot-Air Powered Super Girl")!
In this series he also offered "The Six Million Dollar Broad" ("Her Private Parts Never Wore Out!"), and "Star Trick" ("Meet the Humpy Aliens From Planet X!").
But wait, there's more! Fred also did a number of other adult comics during his career including……
"Black Pussycat" ("The Undercover Agent"), "Harry Hotjock Rides Again", "The Happy Humper", and "Honeypot Girl" ("In Going Around the World"). All of these seem to be going for decent amount nowadays, but if you happen to have any hanging around stuffed under your mattress that you'd like to donate to the Capri Show World Archive let us know.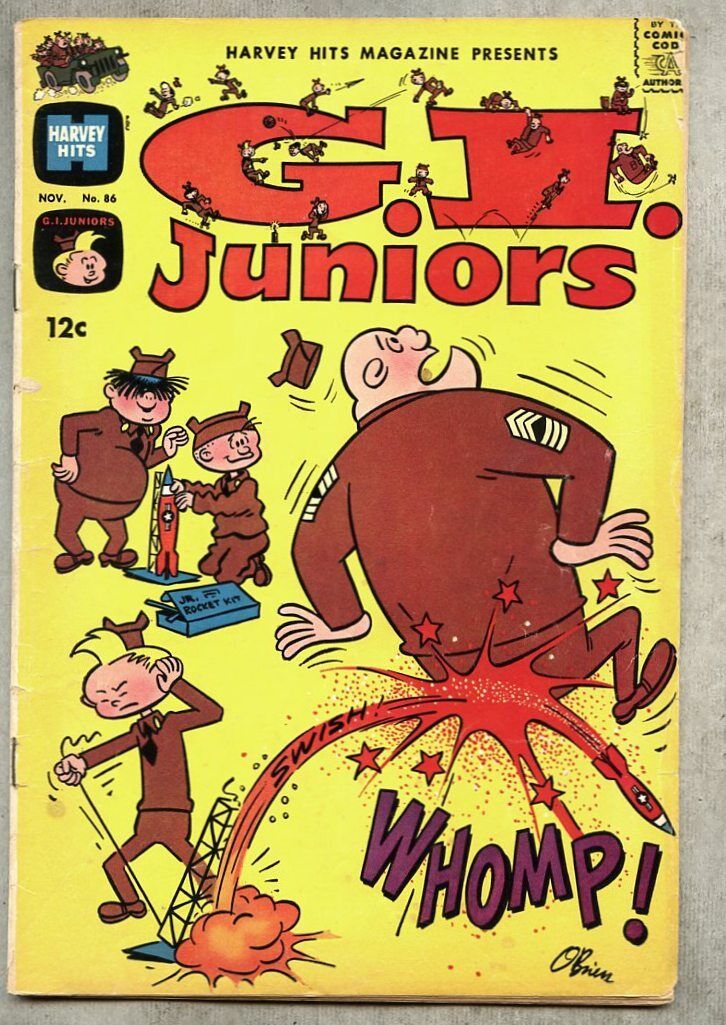 So just who was Fred Engleman? Well it may come as no surprise that there actually was no Fred. It turns out that FE was pseudonym for Jack O'Brien (1922 – 1984), one of the illustrators of the Sad Sack character and creator of the G.I. Juniors comic series, among many other achievements. Fred, er Jack, as we've already seen, was also a creator and purveyor of SMUT, including contributing to one of Uncle Spicy's favorite comics, "Sex to Sixty", as well as providing comics for all sorts of mid-century men's magazines, such as Rogue.
Our kind of guy for sure.
(See UNCLE SPICY'S NAUGHTY CARTOONS for more smutty comic action!)
But in 1970 O'Brien's adult oriented activities became very public when local New Jersey authorities raided his house, arresting five accomplices, and confiscating eight (!) truckloads of pornographic literature, printing machines, photo equipment and mailing lists. He would be subsequently indicted on three counts, exposing obscene pictures of males and females in indecent postures, possession of the picture with intent to sell, and setting indecent words in type (I'm pretty sure this article commits at least two of those…). O'Brien was eventually granted immunity and wasn't prosecuted in exchange for his testimony against another person arrested in the same raid, Walter Kundzicz, of Champion Studio fame, which "defined male physique photography during the late 1950s and 1960s". Kundzicz was later convicted and received a 4 -6 year sentence, but this was overturned in 1972 due to a flaw in the original search warrant. For his part O'Brien claimed that Kundzicz was only using his garage to store the naughty, and mostly homosexual, stuff (evidently the fact that it was mostly homosexual in nature played heavily on the judges sentencing…).
---
One final thing while we're on this smutty super hero parody thing, and this most definitely has nothing to do with Bat Pussy. But since we're already so far afield anyway what's another step away?
I mean, how could I not include "Super Dyke" in this? She never would have forgiven me.