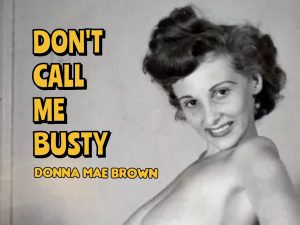 Today we'll be digging in to one of the great burlesque starlets of the 1950s, Busty Brown. And to begin with we dredged up an article by Paul V. Coates, who was known for his "Confidential"-style columns in the 1940s and 1950s, in which he conveys an in-person meeting with Ms Brown herself…
Paul V. Coates
Well, Medium and RARE
[originally published in the LA Mirror, June 24, 1952]
----------------
Seated one day at the typewriter, weary and ill-at-ease, I had the vague feeling that someone was hovering over my left shoulder.
I glanced up. Someone was.
A petite girl with mousy-colored hair--pretty in a school teacherish sort of way, stood there.
She smiled and offered her hand.
"I'm Busty Brown," she explained.
Gingerly, i took the hand. "You said?--" I asked.
"Busty Brown.  That's my name.  Only it's just a nickname.  nobody would really name a person 'Busty', if you know what I mean."
She paused for breath.
"What I mean is," she continued, "nobody's mother or father would ever call them a name like that."
"Sure, sure," I agreed nervously.
She took another deep breath.
I backed away slowly.
She followed me.
"People," she said in a strangely matter-of-fact manner, "call me 'Busty' because of my developments."
For a moment, she was silent.  I grasped the advantage. "Well," I cried quickly, "thanks for stopping by. Any old time you're in the neighbor--"
"But I want you to write a story," she interrupted.  "A story explaining about me."
There was a sudden nervous twitch in my jawbone.
It's a chronic condition.  I felt it first a few years ago when Prof. Voss, the hermit who lives in a tree, stopped by the office.
Then I got it again while interviewing the lady who pendels people.  And the man who talks to birds.
"What's to explain about you, madam?" I asked Miss Brown in a cold voice.
"I'm a nude model," she told me. "What I mean to say is I pose without any clothes on. Sometimes in bathing suits. But mostly, in the nude. Without any clothes."

A NEW INTEREST, YET
The jawbone stopped twitching. My eyes were bright with new interest.
"Sit down, child." I said greasily.
I dusted off a chair and guided her gently to it.  She sat and crossed her legs. "Tell me your whole story, Miss Brown," I murmured.
"Oh," she shrugged, waving away my formality, "you go ahead and just call me 'Busty'."
"Busty," I repeated uncomfortably.
"It doesn't bother me what people call me," she explained.  "I mean, if you worried about what everybody went and called you--well corn sakes! You'd never get anything done."
"Your story, child," I reminded her, leaning closer.  "Tell me everything. You can confide in me."
She rummaged through her purse looking for a cigarette.  I handed her one and lit it.  She inhaled deeply.  "You pose for professional photographers?" I asked.
"And private individuals," she said, "providing they know how to treat a lady like a gentleman. I mean, some of them can be just awful."
"Yes? Yes?" I cried, with pencil poised. Busty took another puff and then inspected her nails.
"Do you think," she said suddenly, "I'm too small to become a policewoman?"
"A wha'?" I replied.
"A policewoman. I'd love to work as a lure."
We were silent for a moment.  And I tried to collect my thoughts.
"It must be a touch life for you," I suggested, delicately bringing the subject around again, "posing in the nude.  I suppose all sorts of men make passes, eh?"
My pencil was repoised.
"Oh goodness, I'll say," she said.
"You'll say what, dear?" I asked eagerly.
"What you just now said about it being a tough life and all."
"Tell me about it," I prodded.  "You'll feel better, if you get if off your chest."
Busty jumped up. "Say," she snapped, giving me a nasty look, "is that supposed to be funny, or something.  What I mean is, you're just another one of those wise guys."
I started to protest. But she silenced me with her hand. "Anyway," she said, glancing at her watch, "I've gotta go. Corn sakes, how time flies."
Then she was gone.
And again, I sat down at the typewriter, weary and ill-at-ease...
---
Well, that didn't really tell us much of anything. So I guess we'll have to do this the old fashioned way: dig for it.
Beginnings – maybe
[disclaimer: this first section may not actually be THE Donna Mae Brown, but based on breadcrumbs she left throughout her career everything ads up, except for the visuals: the high school picture of this Donna Mae Brown don't readily appear to be the burlesque maven we would come to know. So I give this a 75% chance of being her. Everything after this section and before the very last section is based on facts related to THE Donna Mae Brown.]
Donna Mae (or sometimes May) Brown, aka Busty Brown, was (probably) born either on August 31 or September 1, 1932 in Seattle, WA, the second of three children born to Ernest (a log-truck driver) and Elva Brown. I believe Donna attended Garfield High School in Seattle, although her yearbook pictures do not necessarily align with pictures of her just a few years later, so this may not in fact be THE Donna Mae Brown we're looking for. But for what it's worth she herself did say that she was born in Seattle, WA. IF this is our Donna Mae then she seems to have been somewhat active as a student, being in the Student Government as well as the school newspaper. However she is noticeably absent from her senior yearbook in 1951. Perhaps that's because by that time she was not only already in Los Angeles, and not only already working in the burlesque arena, she was also already married and by the time the rest of her (potential) Garfield High classmates were putting on their caps and gowns and straightening their cords and tassels she also would have given birth to her first child. But we're getting ahead of ourselves.
Escape to LA

Exactly when, why, and how Donna Mae arrived in Los Angeles, or even when she started in the burlesque trade is still somewhat of a mystery to me. However the earliest reference I found to "Busty Brown" is a May 1950 gossip snippet in which we find that "Songwriter Jimmy McHugh is dating a girl called (believe it or not) Busty Brown…". If that was our Donna Mae then she would have been just 17, and Mr McHugh would have been a ripe 56. (Actually there were at least three other pre-Donna Mae 'Busty Brown' sightings: the first is was a Philadelphia boxer who at different times was referenced as either George "Dusty" Brown or George "Busty" Brown, the second was an East Coast race horse known as Busty Brown, and the third was an unfortunate typo in a Buster Brown kid's shoe advertisement – and none of those could be mistaken for a pre-1950 Donna Mae sighting…although she was known to appreciate the art of the squared circle from time to time).
One of her first major gigs was in May 1950 as a model for the "THIS IS PHOTOGRAPHY" exhibit at the Hollywood Foto Fiesta, where budding amateur photographers could "Bring [their] own camera and take [their] own shots of lovely models at special sets."
This appears to have at least in part been a legitimate, PG-rated affair, because there are articles indicating that Girl Scout troupes attended in order to get their Photography Badges. But whether there was more adult fare after the Scouts returned to their dens or not, it is clear that the Foto Fiesta wasn't on the up-and-up financially speaking: none of the models, including Donna Mae, were paid! This led to an investigation by a State Agency, and a lawsuit filed by 18 of the models. In April 1951 the court ruled in favor of the models and imposed a $10,757 (~$110K in 2021) settlement. Shared equally that would have been $600 each, not bad for a few days of having your picture taken.
As the 1950s got into their stride so did Busty Brown's career. By July 1951 we find "'BUSTY' BROWN! Nationally famous model featured at every session" at the Hollywood Photography Workshop on Santa Monica BLVD. The HPWS was what was known as a camera club (a subject I'm developing a full article on for 2022), which basically was a place, sometimes inside, other times in "Camera Gardens", in which men (I'm sure it was almost 100% men) would pay $4 per hour to "take pictures" of models (usually females, but I have seen reference to males as well), usually in increasing stages of undress, and for $1 you could also rent a camera if you'd forgot yours at home, with film being extra (although it seems there was very little film in most of those cameras).
The court settlement wasn't the only good thing for Donna Mae in April 1951, she and her first husband welcomed a daughter that same month. In 1950 Donna Mae had married a first generation Lebanesse-American, Victor E Shaheen (1930 – 2019), described as a "brew-master", whatever that is. It seems that Shaheen had seen one of her early magazine photos and just had to meet her. As Donna Mae told it, "That's how he took me out the first time…he saw my picture in a magazine", and "in the picture I was wearing a French bathing suit and he told me I looked 'real sexy'". And who could blame him, right? Well, we'll see about that in a bit…
During the early half of the decade Busty Brown was chosen as the University of South Carolina's "Campus Pin-Up Queen" (evidence that her reach was truly national), as well as being chosen as "MISS ANATOMY" by an illustrator organization (no information on exactly what organization that was though). While at least the latter, and perhaps even both were probably PR stunts it does show that Busty Brown was making a name for herself. It was during this period that the Coates' column at the top of the post appeared, so again, either she had gotten pretty damn good representation, or she was figuring out how the PR game was played on her own. Regardless of the driver though, it was very obviously working.
Also in 1952 Busty Brown made what as far as I can tell is her only appearance in a feature film, variously title MATED, MIS-MATED, and also I WANT A BABY (available from SWV). In this Donna Mae can be seen nursing a baby, the obvious assumption is this would have been her own daughter. It's also worth noting that in a few of the pictures we dug up from the Capri Show World archives Busty Brown appears to be somewhat pregnant, and if so these would obviously date from early 1951.
As the decade continued on Donna Mae was also keeping busy filming loops, shorts, and photo-spreads, at least based on the volume of the work she left behind. I've included the loops available from SWV at the end of this article, and of course there are photo spread throughout, but these are only the tip of the iceberg, which for an aspiring figure model should of course have been a good thing.
But Donna Mae's success and the body of work she was developing wasn't seen as a good thing by everyone. Even though it was a "French bathing suit" picture that originally attracted Shaheen to Donna Mae, once married he made it painfully clear that he "objected to other men look at her figure", and every major success Donna Mae had was met with a physically violent response from him. By January 1953 Donna Mae had enough of this and began divorce proceedings. But in what seems another publicity ploy the divorce was played out in the newspapers, of course painting Shaheen as a bad guy (which it seems he was), but the photographs of the two of them in the courthouse makes it look like it was rather amicable, in fact even using the headline "FRIENDLY DIVORCEES". In any case Donna Mae was granted the divorce and custody of their daughter.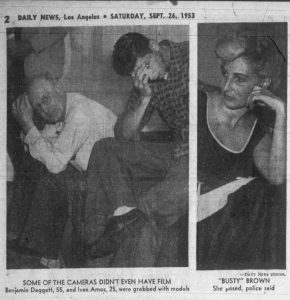 And things would get slightly worse. In September 1953 "Donna M (Busty) Brown" was arrested at one of these camera clubs, "Lane Studios" on S Vermont Ave, along with another model of note, Bobby Reynolds. Ms Reynolds and Donna Mae were room-mates and also showed up in many of the same loops and photo-spreads during the early 1950s. And when it came time for Ms Reynolds to divorce her husband Donna Mae was there to back her side of the story up (it seems Bobby's husband would rather hang out at his USC frat house instead of being with a pin-up model at home…um, ok, whatever). As for the arrest, the two were eventually found guilty of "showing more than the law allows", and were given a fine of $25.
And perhaps that was the last straw, because it seems that not long after the arrest Donna Mae/Busty Brown left the camera clubs behind, probably for good, and turned her attentions to bigger and better, and more lucrative things: HEADLINING.
Strip City Baby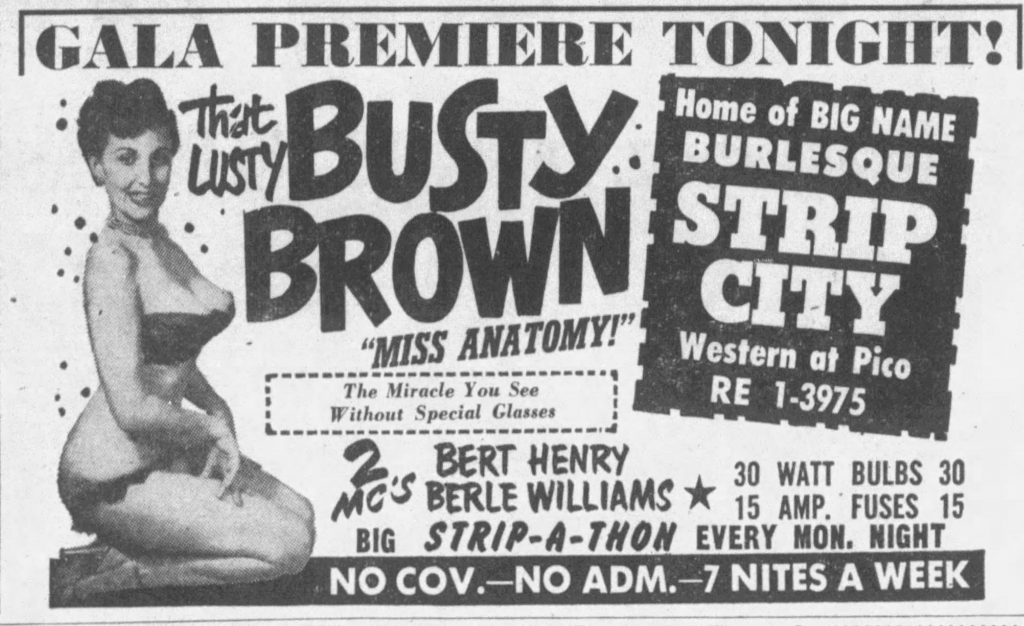 In March 1954 the first advertisements for "That Lusty BUSTY BROWN – 'MISS ANATOMY'" began showing up for Strip City, a then-new club on Western at Pico. One of the clubs owners/managers/agents was Maynard Sloate (1924 – 2019), and evidently Maynard took a liking to Donna Mae, and no doubt was behind the many newspaper blurbs she appeared in over the next few years. (Coincidentally, in 1952 Busty's film, MATED, had been busted at the Maynard Theatre, which was owned by his father). Strip City was also one of the early platform for an up-and-coming comic, Lenny Bruce. One evening while Lord Buckley was performing on stage Bruce decided to climb onto the a/v vent above the stage and pretend to fall asleep. The joke backfired when the vent and half the ceiling, along with Bruce himself came tumbling down on top of His Lordship. Maynard quickly thrust the next dancer out to continue the show, and that dance was of course Busty Brown.
Busty Brown would headline at most of the major LA strip joints, including the infamous New Follies, as well as taken a three-month headlining tour in the winter of 1954/55 of the North East, playing dates in Pittsburgh and New York/New Jersey among other locations. And it's in one of these publicity blurbs that we find out Donna Mae was from Seattle, and also by this point (March 1954) she had "modeled for years…some 2000 shots for cheesecake, calendars, publicity stunts, etc…as well as dress and lingerie modeling…" It was printed in the newspaper, so all that had to be true, right?
And if Maynard and his agent and promotion skills were behind all of that, then he must have believed every word of his own promotion, because by 1956 Maynard had become Mr Busty #2.
By all accounts Maynard Sloate seems like one of those larger-than-life characters that just could only have existed in mid-century LA and Las Vegas. As can be seen from his 2014 obituary, he was a man of man interests and talents: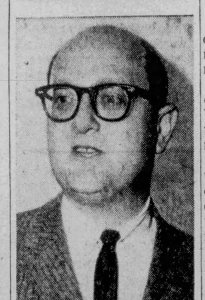 His father and uncle owned multiple movie theaters in Los Angeles from the 1930's-1950's. One which was aptly named the Maynard Theater. [note: Busty Brown's film MATED was busted here in 1952] As a teenager, he ran projectors at the theaters. Maynard then became a jazz drummer, playing with such greats as Stan Getz, Errol Garner, Barney Kessel and Buddy de Franco. He joined the Army during the war, but was stationed locally and continued to play drums throughout his Army career.
After the Army, he went on to become a talent agent who represented such stars as Ella Fitzgerald, Sarah Vaughn, Dinah Washington and Count Basie. He then opened his own night clubs in Los Angeles that housed burlesque dancers, famous comedians and some of the all time jazz greats. Maynard became a personal manager who represented a great number of talents, including Anita O'Day and Charo. During this time, he also produced and directed musical reviews in Reno.
In 1968, Maynard was hired as entertainment director and producer at the Tropicana Hotel & Casino in Las Vegas where he produced and directed two editions of the Folies Bergere. This brought Maynard to move to Las Vegas in 1970. Throughout his career as entertainment director/producer, Maynard worked at the Union Plaza, Sahara and Hacienda Hotels in Las Vegas, The Claridge Hotel in Atlantic City, and Harrahs in Lake Tahoe. In all, Maynard produced and/or directed 70 Broadway shows as well as two editions of the Folies Bergere and numerous musical reviews.
Donna Mae and Maynard were married from 1956 to 1960 and had two sons, one in 1957 and the other in 1959. And my guess is that by the 1956 most, if not all, of Busty Brown's photography and film work had probably already happened, and after 1956 she would focus almost exclusively on stage performances.
But by the end of the decade marriage #2 had collapsed, and a divorce was granted in August 1960, in which Donna Mae testified Maynard would stay out all night and "I didn't believe it was on business." She was awarded $50 monthly alimony and 20% of Sloate's gross earnings for child support. Given the popularity of Strip City, as well as Maynard's future endeavors (he was the guy who brought Broadway to Las Vegas), that 20% could have been a nice bit of support. In any case Donna Mae indicated she would work as a cashier and didn't intend to resume her dancing career "because of the children." She also announced that she intended to write a book entitled "Don't Call Me Busty".
I have found no evidence that said book was ever published (if you find evidence of it please let me know).
And with that the Busty Brown persona was retired for good. Well, at least by Donna Mae.
Other Busty's
In 1967 a Barry Mahon film titled THE ADVENTURES OF BUSTY BROWN was released, and while I'm positive this film had no linkage at all to Donna Mae, there was a mysterious earlier 1964 film (which the Mahon film is sometimes mistaken for) called BUSTY BROWN HOLLYWOOD STORY, and also evidence of another film, or perhaps the same one, called LUSTY BUSTY BROWN. Whether these were two films or just one, and what they were about, and whether Donna Mae could have been involved in either or both of them we may never be know. That is unless someone reading this has some additional info, or perhaps a spare print or two laying around…
A Second Act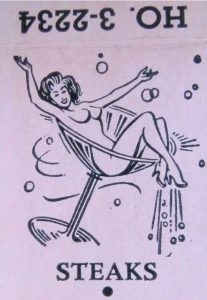 But those films aside, it does seem that Donna Mae was serious about hanging up the tassels for good (although I'm not sure she ever actually wore tassels for too long to begin with...) and start a new life, although not necessarily as a stay-at-home housewife. Later in 1960 Donna Mae married her third husband, Stanley Robert Sydel (1930 – 2014), an up-and-coming LA bartender and restaurant host. It seems Sydel had been working his way up the food-chain from bartender, to host, to manager. And then in the mid-1960s Sydel, with Donna Mae at this side, graduated to full owner of the club he'd already managed and acted as host for, the Rik-Nik on N La Brea. By 1966 he and Donna Mae became not only "the principle image-makers of Hollywood's Nik-Rik Restaurant…" but they were also "easily the handsomest pair of entrepreneurs in the area."
The next year they would totally re-fit the now-former Nik-Rik into Clown Alley, which was a "themed" dining experience in which you "will be waited upon by doubles for the greatest comedians in the world…such as Jerry Lewis, Bob Hope, Milton Berle, Laurel and Hardy, W.C. Fields, Charlie Chaplin, Emmett Kelly, various other Keystone Kops…Clown alley is decorated with pictures of show business' greatest clowns…all done by former screen star Babe London…" I think you get the picture. The interesting thing is by all accounts in the press Stanley and Donna Mae Sydel were still a happily married couple, but in fact by the time of the transformation of the Nik-Rik into Clown Alley their marriage had already ended and they were divorced in 1966. So I wonder if the Nik-Rik to Clown Alley evolution was part of the settlement? It seems Clown Alley only lasted for about a year. Stan was off to be host/manager elsewhere in LA, but at this point the Donna Mae trail goes somewhat cold. Perhaps she was focusing on raising her three kids (they would all have been in their teenage years by this time). Or perhaps, maybe Donna Mae Sydel evolved yet again…
Where have you gone, Busty Brown…
[disclaimer: The rest of this article is somewhat of a conjecture, but based on threads which I feel at least pull together a plausible narrative.]
In 1972 a Donna Sloate surfaces again in LA as the manager/booker for a new LA jazz club called The City. This would not have been too far removed from her Nik-Rik/Clown Alley duties I'm sure, and we also find that one of the acts that had been booked into The City was Anita O'Day, who was a client of Donna Mae's ex-husband Maynard Sloate. Additionally Maynard had owned Strip City and Jazz City. So while not a slam dunk to be our Donna Mae, I feel pretty good that this was her (and maybe a bit of a nod back to Maynard with just The City). And this Donna Mae, in addition to managing The City, had a main job as "a comedy writer for Lily Tomlin, et al." And sure enough on Lily Tomlin's 1971 Grammy-wining album THIS IS A RECORDING a Donna Sloate is credited with writing the "The Mafia and the Pope" skit (audio at foot of article).
There is also a Donna Brown crediting with a number of song-writing copyrights throughout the mid-1970s. But I have nothing beyond the similar name to suggest this might be The Donna Mae Brown.
In attempting to track down her children I've found that one of her sons has passed away, and while I believe I have identified the other two children I have not attempted to contact them yet. I also believe Donna Mae herself may have been still alive as recently as 2018, although at least one online source indicates she is now deceased (but I've found no hard evidence of this yet). If she is still alive she would be 89 years old at the time of this article (December 2021).
So Ms Brown if you are still out there and you happen to come across this, give us a shout out, we'd love to have you correct and enhance this brief attempt at a bio.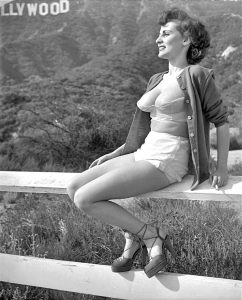 ---
Something Weird Videos – Busty Brown
MATED

GLAMOUR, PANTIES AND PASTIES
     Vol 2
     Vol 3
     Vol 4
     Vol 5
     
SUPER BOOBS
     Vol 1
     Vol 2



BIG BUST LOOPS
     Vol 1
     Vol 2
     Vol 3
     Vol 5
     Vol 6
     Vol 7
     Vol 10
     Vol 12
     Vol 19
     Vol 20
     Vol 21
     Vol 24
     Vol 28
     Vol 38
     Vol 39
     Vol 40
     Vol 41
NUDIE CUTIES
     Vol 4
     Vol 17
     Vol 19
     Vol 20
     Vol 30
     Vol 52
     Vol 60
     Vol 95
     Vol 97
     Vol 107
     Vol 115
     Vol 132
     Vol 144
     Vol 331