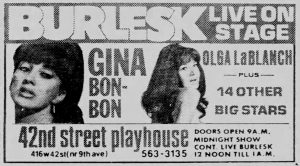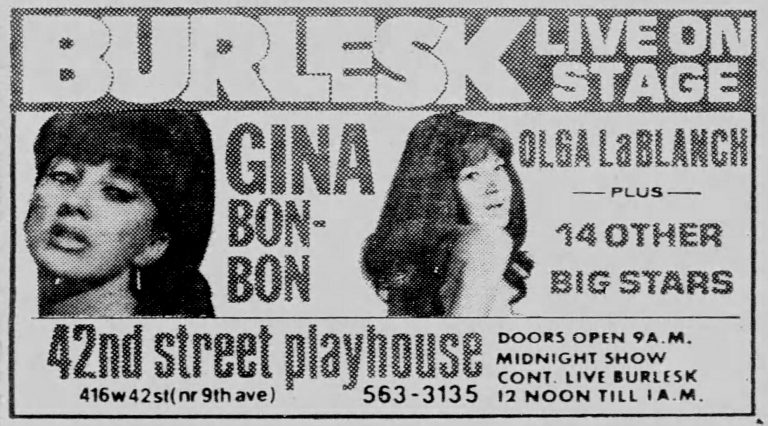 One evening last week I was doing research on a potentially lost film from 1971, and while I was searching for ads in the New York Daily news I came across one for the 42nd Street Playhouse Burlesk (a New Era/Seymor Domoor joint) that caught my eye (as those types of ads a prone to do…) from December 13, 1971: Gina Bon Bon and Olga La Blanch(e).  So I figured why not see what we can dig up on these two ladies of the stage.
---
Olga
We'll start with Olga, mainly because I found the least amount about her (so far).  We first see Olga in July 1971 listed fifth in an ad for the 42nd Street Playhouse, and in fact the 42nd seems to be the only place where there's a record of her working, at least by the name Olga LaBlanche, which more than likely was a stage name.  There is a number of listing for Olga throughout the rest of 1971, and then nothing until 1974 when she shows up in a news story which ran across the country, about Fanne Foxe, the "Tidal Basin Bombshell" skipping out on a show at the 42nd Street Playhouse (where else?) to be at the bedside of her sugar daddy Representative Wilbur Mills.  The Fanne Foxe story is for another post at some point.  But it's importnant for us tonight because the news stories identify Olga LaBlanche as the manager of the 42nd Street Playhouse!
So beyond the fact that we know she was a dancer, then manager of the 42nd Street Playhouse that's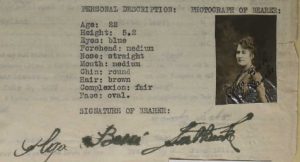 about it for Olga.  I did find a record of an Olga LaBlanche immigrating to New York in 1919 from France where she had married Paul LaBlanche at the end of WWI.  So could this have been our Olga's mother or grandmother?  Or maybe even Olga herself?  I mean, a 70-something burlesque dancer isn't  unheard of…
---
Gina Bon Bon
And now we come on to Miss Gina Bon Bon.  This was a name unfamiliar to me, but then I am just dipping my toes into the world of Burlesque.  For those of you with some background in the art I'm sure this is not the first time you've heard of "The Love Potion Candy Girl" (wow!).   The official narrative is she came from Puerto Rico at some point in the early 1960s and started at The Latin Quarter in 1965 in as part of the Latin Flames Revue, although the only Latin Flames I've been able to find at the LQ in 1965 were the ones that happened when the place caught fire that year.
The first headline that I've found for Ms Bon Bon is from 1968 at the Pink Pussy Cat in Dayton, OH, which based on what we'll learn later is the year she in fact did start on the Burlesque Circuit.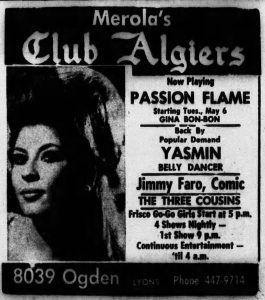 By 1969 MS Bon Bon may have been in at least one film, PASSION FLAME, although I think this ad is a bit misleading.  For starters, outside of this ad I've found no evidence a film with that name actually existed.  Secondly, and more telling, there was another dancer at the same time who went by Passion Flame, "Queen of the Pussycats".  So I'm betting Ms Flame was the headliner and Ms Bon Bon was the next act.

As the 70s rolled in Ms Bon Bon was there for the evolution of old-school burlesque into more of what we would come to know as "stripping" (although the ghost of burlesque lingered on here and there into the 80s, and in at least one instance into the 90s: late one December night in 1991 Uncel Spicy found himself the only patron of a very dark, very old lounge in Daytona Beach, Pandora's Box, and there was only one performer, who totally confused him with her very artistic moves, and no nudity whatsover, although there was considerable teasing.  Then she was gone.  What Uncle Spicy didn't understand then was he was experiencing the last of the old-school burlyQs).
But back to Ms Bon Bon and 1970.  Perhaps this ad from the Dangle Lounge in Madison, WI was suggesting suggesting that what had started in the mid-60s on the West Coast was finally coming to Wisconsin, and gone would be the pasties and the tassels.  I have found evidence that  by February 1970 the Dangle, as well as other lounges in the Madison, WI area, were already topless, and were attempting to go fully nude.  Perhaps our Gina helped pave the way…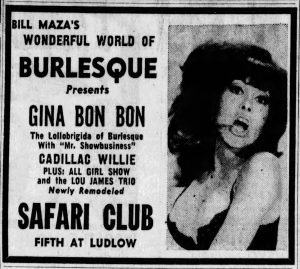 I only found one other ad for 1970, at the Safari Club in Dayton, OH.  Aside from the New York date we started with 1971 seems to have been a quiet year for Gina, or perhaps she was playing clubs in locations that either didn't advertise in mainstream papers, or that my current sources for ads don't have available (this is something to always keep in mind, our current picture into the past is through the filters that are available to us, and that doesn't always paint the full, or even accurate, picture).
We pick back up on the Bon Bon trail in Pittsburgh, at the Casino Theatre, in Feb 1972 (in a very old-school looking ad), and then the trail goes cold again until a year later in Orlando, at the Club Juana, where she is now refered to as "The Delightful Dazzling Stripper", a nod to the changing times.  Of interest to perhaps some of you heathens, the Club Juana was a joint your very own Uncle Spicy may have spent a few (or more) nights at in another life…
Things seem to have been going OK for Ms Bon Bon, at least professionally.
And then San Antonio happened…
---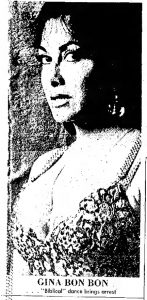 In December 1973 at the Mark III club in San Antonio Gina and club owner Tom Dorsey were both arrested for what was termed a "Biblical Dance" ( we can only guess what that entailed).  In the article detailing the events Ms Bon Bon informs us that this is the first time she had been arrested, which we find out in a bit probably wasn't true, and that she had been dancing for 7 years, which fits our timeline.  We also find out that she was "a former flick performer".  Again, something we'll get to in a bit, but before that things are going to get a little bit strange.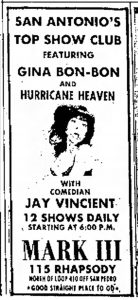 If it wasn't bad enough that Ms Bon Bon had to spend time in the clink (all of 45 minutes according to reports),  after the arrest San Antonio's finest took it upon themselves to send her fingerprints to the National Crime Information Center (probably just a routine activity, but it does highlight that Big Brother has been watching for a very long time).  Once the NCIC's computer got ahold of the prints it didn't take long for it to spit out a rather surprising bit of information: Ms Bon Bon was A MAN!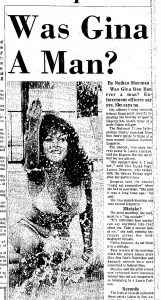 Yep, according to The Fuzz, the lovely, and very feminine, Gina Bon Bon, who's real name we find out was Laura Leon Carlson, had the exact same fingerprints as a male Cuban refugee named Maximo Gustavo Izaguirre.  While it probably seemed obvious to everyone, the authorities being who they of course had to get to the bottom of this, which occurred not without some humor.  Evidently Ms Bon Bon first told the San Antonio Vice Squad officer who approached her with this information that she "could not remember" when she had the operation, and then, probably when she realized he was serious, changed her story suggesting it was a "big mistake."  However I think she was able to prove her case, given the account from the Express & News, February 9, 1973:
"It's ridiculous how anyone can say anything like that about me. Take second look at me," she said, running her fingers across her well-displayed breasts.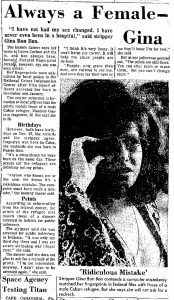 And one final bit of information: Maximo and Gina both share Decemeber 27 as their birthday, although seven years apart (1944 for Ms Bon Bon and 1937 for Maximo).  While she was spilling the truth-beans, she also admitted that she herself had escaped Cuba in 1960 and used her brother's name and papers.  If that is true then that means she was more than likely born in Palmo Soriano, Cuba.
As for that other arrest that the NCIC listed, she later admitted that her first arrest had not in fact been in San Antonio, but in Fort Wayne (or Lafayette?), Indiana in 1968: "It was only my third day there and I was no aware stripping was illegal there."   And I guess to this very day she still shares her "official" fingerprints with Maximo, because when the newspaper asked if she was going to fix the error she indicated "I'm not interested. Anyway, I don't plan to be arrested again."  And according to what I've found she hasn't been.
---
One immediate result of the little he-she saga was Ms Bon Bon's rates nearly tripled!  Not bad for a couple of arrests and a mis-understood physiology.
---
Perhaps a change of scenery was needed after the Texas saga and Ms Bon Bon headed north to Victoria Canada in mid-February, although I'm not sure Canada in February is exactly a good change of scenery.
Later in 1974 it would seem Ms Bon Bon settled into a long-term engagement in Nashville at the Black Poodle, part of the Embers Complex in Printer's Alley.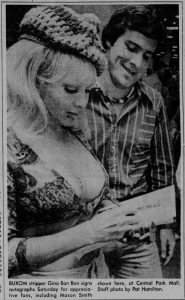 Then, with one single exception in November 1975 when Ms Bon Bon makes a return to San Antonio (even signing autographs at the Central Park Mall!), we loose track of her again until 1977.  Could she have settled down for a bit?  Was she at another long-term engagement that didn't advertise?  But for now there's no evidence of anything during window.
---
An interesting tid-bit from Mansfield, OH is the reference to Ms Bon Bon appearing in "'GOING HOME' with Robert Mitchum."  GH is from 1971, so why was this the first mention of it in MS Bon Bon's CV?  Also, the IMDB listing for GH (and we all know how absolutely accurate IMDB always is…) doens't have a Gina Bon Bon (no surprise) or a Laura Carlson, or any names remotley like that.  Of course she could have used a different name, or she might have only had a bit-part that didn't warrent even an uncredited listing.  I guess Uncle Spicy will have to seek this film out and report back.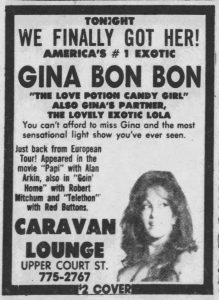 But then again Uncle Spicy might have a bit more homework once we look at the next time Ms Bon Bon pops up, two years later in mid-1979.  This time we get a reason for the break in ads: she was on a European tour.  In addition to providing that the ad goes on to suggest that Ms Bon Bon was not only in GOING HOME with Robert Mitchum, but had also been in POPI (1969) with Alan Arkin and TELETHON (1977) with Red Buttons.  Again, it doesn't appear that she is credited with either film, so some research is obviously required.
Update: Uncle Spicy did a bit of homework (for once) and dug up something called BURLESQUE U.S.A., which was a live touring show, from 1980 with Ms Bon Bon and Red Buttons (among others).  But wait, there's more!  We have a video from the London performance of MS Gina HERSELF!
---
As we move into the 80s Ms Bon Bon continued to appear around the United States and Canada, each ad looking less like Burlesque and more like stripping (which of course was the way the market was moving).
---
And then we have the last performance I found an ad for, which also announces "Final Day!"  I don't know whether that meant it was the last day Ms Bon Bon was going to be at the Market Street Cinema, or if it meant it was her last day performing, period….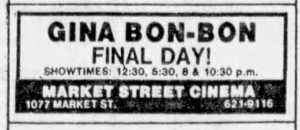 ---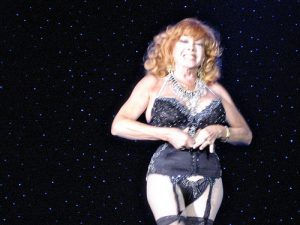 Except that it wasn't.  While Gina Bon Bon officially retired in 1991, she still, as of this writing in February 2020, performs, although her routines now harken back to her early days of true classic old-school burlesque.  She has been inducted into the Burlesque Hall of Fame, and attends conventions and shows throughout the year, and has become a mentor for the new-school Neo Burlesque Renaissance of the past decade.
---
Which brings us back to Olga, and the remote possibility that the lady who immigrated to the USA in 1919 could possibly have been still dancing in the mid-1960s…nah, I doubt it, right?
---
So there we have it, two ladies of burlesque who shared an ad and a stage for probably not more than a week fifty years ago.  One would be nothing more than a blip on the burlesques grand ocean, the other would ride the waves of change in that ocean long enough to see things come back round again.
-Spicy
---
[Update Sept 7, 2020] – We've had another sighting of Olga, this time from Labor Day 1970, this time at the 50th Street Playhouse, which was also part of the New Era chain at the time.