For many of you connoisseurs of smut The Dragon Art Theatre, made famous by Something Weird Video series of the same name, and the usage of the Donn Davison introduction to those videos (first on VHS, then DVD and DVD-R, and now also downloadable, for now…), is not an unfamiliar name. And while a certain mythos has grown up around it, I submit little is actually known of the Dragon Art Theatre itself, and what does seem to be "known" is, at least in part, completely wrong.
The generally accepted storyline is that Davison managed the Dragon Art Theatre, which was a typical early 1970s southern California sticky floored po-no theater, perhaps even as low as a storefront theater. This, however, is incorrect on at least two major points.
First, The Dragon Art Theatre was in fact a drive-in theatre (it's original name as we'll see was the "Dragon Drive-In"). And while I agree the video of Davison does make it seem like he's in the office of an actual theatre, this could easily have been at one of his actual brick-and-mortar cinemas, or even (most likely) on a film set.; and it's also possible, although unlikely, it was filmed in the office of the drive-in.
Second, it's actual location was not in LA, or California, or anywhere on the west coast. It was actually firmly planted in a field north of Gainesville, FL, just outside the small city of High Springs. So in effect it was about as far away from the streets of Los Angeles as you could get, geographically as well as culturally. And of course there are no floors at a drive-in to get sticky…
As with all good myths there are threads of fact embedded in the lore. Donn Davison did own and manage the theater, and it absolutely was a purveyor (perv-ayor?) of smutty films, especially given it's very bible-belt location. And also like all good mythologies our hero, Davison, was made to suffer for his sins (got in a boat-load of hot water when the underage son of a local sheriff was admitted unlawfully, but more on that in a later post). And while I do concede it's possible there could have been two Dragon Arts, I highly doubt it, if for no other reason that I have found exactly zero evidence of a second one, on either coast. And even a small, smutty little store front theatre would have left some evidence of it's existence (believe me, you might be very surprised what you can dig up if you know where to look).
Unfortunately the how, when, why, and by whom the California myth got started is of course now a mystery in itself. But nevertheless the facts do clearly show that there was a Dragon Art Theatre in north Florida between 1969 and 1975, and it was managed by Donn Davison himself.
See the end of this post for a view of the Dragon Art Theatre today. But for now, enjoy the first four years of ads, all culled from the University of Florida's Alligator newspaper.
And pay particular attention to 1972, when we're introduced to The Dragon Lady herself! Perhaps by the end we can even consider her the Patron Saint of our story…
1969 – 1970 – 1971 – 1972 – 1973 (partial)
Top
1969 (September to December)
09/25/1969 The Daisy Chain
10/09/1969 The Layout - Sadismo
10/16/1969 Over Exposed - A Lovely Sort of Death - The Trip - Hallucination Generation - Mary Jane - Dor to Door Maniac
10/23/1969 For Love & Money - The Big Bounce
10/30/1969 Old Tastes - The Wild Eye
11/06/1969 Good Morning…and Goodbye!
11/13/1969 Faster, Pussycat! Kill! Kill!
11/20/1969 Agony of Love - Wild in the Streets
11/26/1969 Detective X - the Big Cube - The Sweet Body of Deborah
12/04/1969 Suburban Pagans - Weekend Lovers
---
Top
1970 – Full Year
02/12/1970 Kiss Me Quick - The Daisy Chain
01/15/1970 Common-law Cabin - Mondo Topless - Mud Honey
01/22/1970 Finders Keepers…Lovers Weepers! - Lorna - Motorsycho!
01/29/1970 Finders Keepers…Lovers Weepers! - Boom to Bust - Common-Law Cabin - Mondo Topless - Good Morning…and Goodbye!
02/05/1970 Marcy - The Unsatisfied
07/20/1970 Erika's Host Summer - Southern Comforts
02/26/1970 The Flesh is Weak - Moonshiner's Woman - The Wild Woman with a Whip
03/05/1970 The Other Side of Bonnie & Clyde - Suddenly, A Woman! - All of Me
03/12/1970 Goddess - Girl in Gold Boots - Lucky Pierre - Weekend
04/16/1970 Poor White Trash - Big dayy - Mondo Exito
04/23/1970 Inga - Lustful Turk
04/30/1970 I, A Woman - Carmen Baby - Once Upon a Knight
05/07/1970 Love Camp 7
05/14/1970 The Ramrodder - The Notorious daughter of Fanny Hill
05/21/1970 99 Women - House on Bare Mountain
05/28/1970 All Neat in Black Stockings - The Acid Eaters - London in the Raw
06/04/1970 The Curious Dr Hump
06/25/1970 Lady Godiva Rides - The Raw Ones
07/02/1970 Thar She Blows - A Smell of Honey, A Swallow of Brine!
07/09/1970 Erotic Touch of Hot Skin - Camille 2000
07/16/1970 The Love Pirate - Fanny Hill Meets the Red Baron
07/23/1970 Karla - The Game People Play
07/30/1970 She Should Have Stayed in Bed - The Calico Queen
08/06/1970 Excited - The Undercover Scandals of Henry VIII
08/13/1970 The Velvet Trap
08/20/1970 A Sweet Sickness - Brand of Shame
09/24/1970 Heat of Midnight - The Animal - Mondo Bizarro
10/01/1970 All Together Now - Tight Skirts, Loose Pleasures
10/08/1970 Baby Vickie - Alimony Lovers
10/15/1970 A Fairly Tale for Adults - A Had Mna's Good to Find
10/22/1970 Linda and Abilene - And Five Makes Jason
10/29/1970 The Midnight Graduate - Diamond Stud
11/05/1970 Sinthia - Hedonistic Pleasures
11/12/1970 Like Mother Like Daughter - Precious Jewels
11/19/1970 Brand of Shame - The Undercover Scandals of Henry VIII
11/25/1970 Melissa: The Total Femail - Kiss-Off - Bowl the Man Down - All the Way Down
12/03/1975 Odd Triangle - The Kill
---
Top
1971 – Full Year
01/28/1971 Don't Just Lay There - Sinthia The Devils Doll
02/04/1971 The Train is Coming - A Man - Eight Girls - Linda and Abilene
02/11/1971 Dr Masher - Trader Hornee
02/18/1971 Like Mother Like Daughter - Starlet - Fandango - A Smell Of Honey
02/21/1971 Love They Neighbor And his Wife! - Thar She Blows
02/25/1971 Alley Tramp - Henry's Night In
03/04/1971 How To Do Anything…At All With Girls - The Layout
03/11/1971 Swingtail (in 3D) - Mondo Keyhole
04/08/1971 Eddy - Mondo Sexo
04/15/1971 Andy Warhol's Lonesome Coyboys - Temporary Wives
04/22/1971 Sexual Inadequacies - A Fairy Tale for Adults
04/29/1971 Obscenity, Obscenity - (a Second Feature)
05/06/1971 Karla - Sweet Bird Aquarius
05/12/1971 Getting Into Heaven - (a Second Feature)
05/20/1971 Platinum Pussycat - Adult Feature #2
05/27/1971 The Affairs of Aphrodite - Guess Who's Coming
06/04/1971 Let's Play Doctor - Melissa: The Total Female
06/24/1971 The Wild Females - The Ravager - The Erotic Circus - Surprise Feature
07/01/1971 Fun in the Sun - Bang-Bang - Love Blackmailer - Girls for Men Only - Easy Pick-up - Isle of Man - Mirage
07/08/1971 School for --- (Sex) - Sisters in Leather - Wild Gypsies
07/15/1971 Sceentest Girls - Sadisto Lovers - Cinthia - Susan
08/05/1971 The Girl With The Hungry Eyes - Love Blackmailer - All Of Me - Nature's Girl - The Working Girl
08/12/1971 Erika's Hot Summer - Danish in Blue
08/19/1971 2000 Weeks - P.P.S. - Incredible Sex Revolution
09/23/1971 Midnight Plowboy - (a Second Feature)
09/30/1971 Code Name: Rawhide - (a Second Feature)
10/07/1971 The Notorious Concubines - (a Second Feature)
10/21/1971 The Notorious Cleopatra - Cool It, Baby
10/28/1971 Wilbur and the Baby Factory - The Girl With Hungry Eyes
11/04/1971 Keep It Up - Women of Desire
11/11/1971 Now??? - ???
11/18/1971 The Takers - Hit No. 2
12/02/1971 Agony of Love - Love Toy
Top
---
1972 – Full Year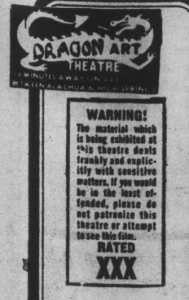 As the 1970s really got going there were two things to take note of in 1972. For starters, we see in print similar prose to the now famous disclaimer filmed by Davison and used in the SWV series:
The material which is being exhibited at this theatre deals frankly and explicitly with sensitive matters. If you would be in the least offended, please do no patronize this theatre or attempt to see this film.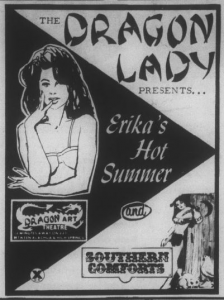 The second item to take note of is the heretofore forgotten "mate" of the Dragon: The Dragon Lady! Starting in July with ERIKA'S HOT SUMMER and SOUTHERN COMFORTS we begin to see "The Dragon Lady Presents…". Perhaps Donn was trying to make this more of a couples-friendly theatre?
---
01/06/1972 Body of a Woman – The Erotic Circus
01/13/1972 Substitution – Hot Hours
01/20/1972 Lies – A Good Time With A Bad Girl
01/27/1972 Drop Out – Naked Dreams
02/10/1972 Movies So Daring No Title Befits Them…
02/17/1972 2 Bold Audlt Titles ??? – ???
02/24/1972 Erika's Hot Summer – Tobacco Roody
03/30/1972 Below The Belt – (Second Feature)
04/06/1972 Tobacco Roody – (2nd Feature)
04/13/1972 The Godson – (2nd Feature)
04/20/1972 Wilbur and the Baby Factory – Roseland
04/27/1972 Danish Blue – Matinee Wives
05/04/1972 Sweet Georgia – Dairy of a Swinger
05/11/1972 The Exotic Dreams of Casanova – (Hit No. 2)
05/18/1972 The Big Switch – Screentest Girls
05/25/1972 The Love Child – Love me…Please – How to Succeed With Sex
06/01/1972 Country Cuzzins – Weekend Lovers
06/22/1972 Two for the Mondy – Psycho Lover
06/29/1972 Wild Pussycat – It's Not My Body
07/06/1972 Low Blow – Love Toy
07/20/1972 Erika's Hot Summer – Southern Comforts
08/10/1972 The Curious Dr Hump – Confessions of a Bad Girl – Casting Call
08/17/1972 The Godson – Below The Belt
09/28/1972 Sex and the Lonely Woman – Codename: Raw-hide
10/05/1972 Drop Out – Keep It Up
10/12/1972 3 Big Adult Hits…
10/14/1972 Weekend Lovers – Four Kinds of Love
10/19/1972 Midnight Plowboy – This, That, & The Other – Ravager
10/26/1972 9 Stages of Nakedness – The Girl With Hungry Eyes – Bed of Roses
11/02/1972 The Pigkeeper's Daughter – Please Don't Eat My Mother!
11/09/1972 Country Cuzzins – Southern Comforts
11/16/1972 Casting Call – Wild Gypsies – Slaves of Love
12/07/1972 We A Family – The Calico Queen
---
Top
1973 – Partial Year (so far…)
01/11/1973 Hollywood Babylon - The Kill
01/18/1973 Sex & Astrology - Two for the Money
01/25/1973 Midnight Plowboy - The Pigkeeper's Daughter - Country Cuzzins - Southern Comforts

And More to Come...
The ads continue through 1973 and 1974, and I'll eventually get around to finishing the pull and update this page accordingly.
In 1975 Davison had finally had enough of the local law enforcement harassment and sold the property to the local Catholic Church (!), who then attempted to turn it into a family friendly drive-in, showing bad Disney rejects once a month for a short while. They eventually demolished the screen, projector house, and snack bar (if there was one), and put a new St. Madeleine Church on the property, including The Santa Fe Shrine of Our Lady of La Leche. (The church's website actually mentions "the ill-reputed Dragon Arts Drive-In"). Supposedly the priest, Fr. Roland Julien, kept the claw portion of the sign on display in his office, I'm sure as a symbol of Good slaying Evil, but in a way I think we can consider that a kind of Shrine of Our Lady of the Dragon Art….
I made a pilgrimage to The Shrine in February 2019, and here are a few pictures of where The Dragon Art once proudly screened smut to the lost souls in the backwoods of North Florida.