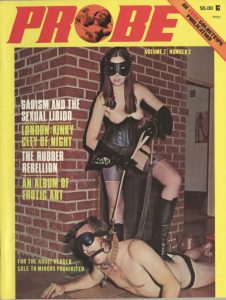 While riffling through another box in one of the storage rooms at the Capri Show World Center we ran across a copy of Probe #2, what appeared to be a BDSM mag put out by Eros Goldstripe in 1972, but what caught our eye was the "London: Kinky City of Night" advertised on the cover. A quick flip through it's pages garnered the following pictures of London's Soho, which was for a good portion of the 20th Century London's Red Light District. But the odd thing about the pictures was that they did not feel like they were from 1972 in any way. And in fact a bit of spelunking on the internets confirmed that at least two, probably all, were from 1961, a full decade before this mag was put on the top shelves. This of course was not uncommon, in fact it was very common for many of the lower end mags, which I'm guessing Probe was one of, to reprint photo-spreads and even fiction stories several times, in many different mags, over the course of ten or even twenty years.
But the other odd thing is at least two of these pictures seem to have had a life outside of smut rags. The picture of the lone man standing in the doorway of a strip tease joint looking right at the camera is actually all over the internet, and used frequently in articles and posts (like this one!) about Soho of the 1960s. A nd the other, the one of the SOHO BOOK SHOP, is also used all over the interwebs as well. And it seems both have even got caught up in the great IP Net of Getty Images, and for a cool $450 EACH Getty will be happy to sell you a copy of them (yet more proof that Getty probably doesn't in fact own exclusive IP rights to a good deal of their so-called library).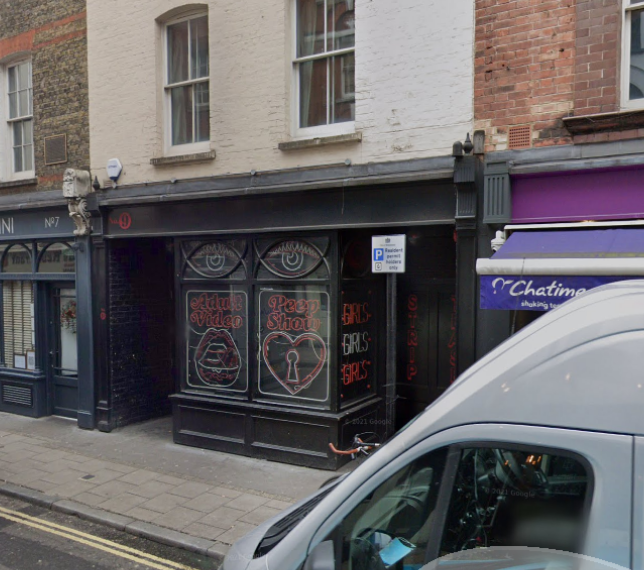 The most obvious, and well known, location was The Phoenix Club which was at 9 Old Compton Street. And taken at face value you might be overjoyed that sixty years on it's still a sex venue, with it's neon facade of two eyes, lips and a heart with a keyhole in the middle, and promising Adult Videos and Peep Shows. But once inside the only hunger that will be addressed is of the gastronomical kind: it's actually a restaurant called La Bodega Negra. How utterly disappointing.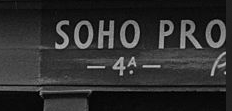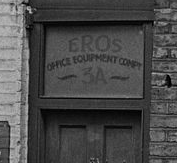 I've tried to track down the locations in these pictures, but aside from one that turned out to have a fame of it's own, the others have thus far eluded me (I would have thought the SOHO BOOK SHOP location would have been easy to find, but nope. And no, it is NOT the place that is passing itself off as the the "Original" Soho Book Shop). As mentioned above, this picture is floating all around the internet, and the one used in Probe #2 was actually slightly cropped, and in the fuller version we can see a door to the left with the name "Eros" and "Office Equipment Cmpy" and "3A" on the door (what kind of office equipment would go by Eros, in 1961 no less?!), and then to the right we see a door with "4A" on it, and a sign whose latter half is cut off, but which reads "SOHO PRO". "PRO" what is anyone's guess, but we can surmise from these new bits of data that the Soho Book Shop was at 3B Some Street, Soho. And the other perhaps helpful bit of info is the street numbers are a) all on one side of the street (no odd side/even side), and b) the numbers are counting up from left to right, while all of the street I've seen in Soho go up from right to left. At some point I'll do the dirty work and look at every street in Soho and find this place, unless someone out there can nail if for me before I make that sacrifice! (please)
And no luck on what appears to be the Club Folies (note the one "l") either, although Paul Raymond (a person we'll be coming back to soon) did have a show called the Folies Parisienne, but I highly doubt this is that Folies.
But the picture which I can identify is the dark one with the group of men standing under a sign which reads "NON-STOP STRIP TEASE". Evidently this phrase, "non-stop strip tease" was very popular at the start of the sixties in Soho, because there were several, and I mean a lot, of places that used that phrase, so tracking this one down was not easy. But thanks to the very distinct font as well as four young lads from Liverpool I was somewhat quickly able to determine this was taken in front of 7 Rupert Court in Soho, nestled between Rupert Street and Wardour Street. And the four lads were of course The Beatles! On July 2, 1963 they did a photo shoot in Rupert Court, photographed by Dezo Hoffmann, who's studio also happened to be on Rupert Court. One of the photos was even used as the cover picture for a book on the Beatles London, however the Non-stop Strip Tease sign was covered over by the title of the book…
But as for the rest of the places, especially the Soho Book Shop, if anyone has any information please let us know!