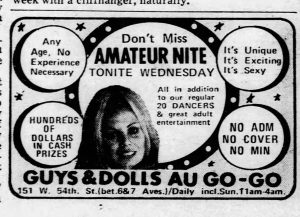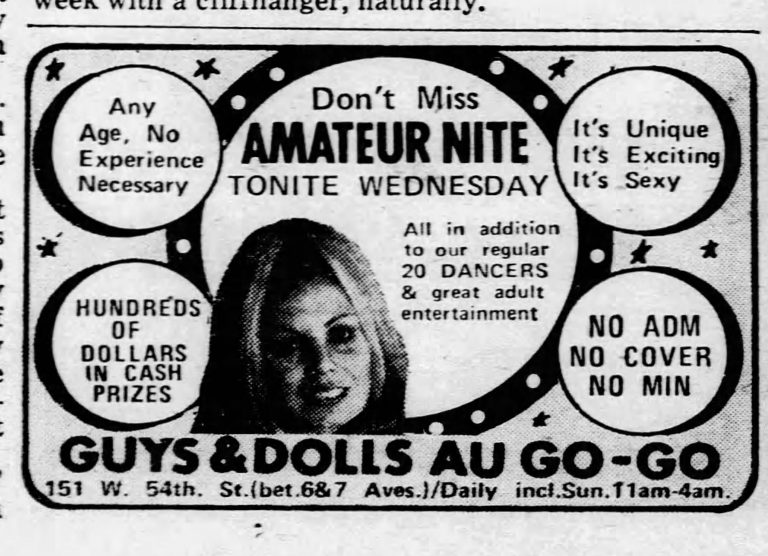 Last week on one of the NYC FB groups we lurk around in someone asked if anyone remembered a strip club from the mid-late 1970s called Guys & Dolls. Well Uncle Spicy threw a couple of the research marmosets loose in the archive and they very quickly came back with not only validation that such a den of iniquity had existed, they even found a photo of it. But that's not all! They also turned up a handful of postcards used to publicize the joint, and it's sister joints the Wild West and Adam & Eve.
All three were owned by the same person, Sol Sitzer, who was known as "King of the Topless", and at one time or another was behind at least the following NYC clubs (Sol also had several massage parlors, which we didn't waste the marmoset's skills on trying to itemize them, since it seems many closed almost as quickly as they opened):
Montmartre – late 1960s – 1117 1st Ave
Jax 3-Ring Circus – early/mid 1970s – 146 E 53rd St (personally raided by Mayor Abe Beame in 1977, an election year)
10 Maiden Lane – 1970s – 10 Maiden Lane
Pandora's Box – 1970s – 149 W 54th St
The Living Room – late 70s – 1982 – 151 E. 49th St
Adam & Eve -1973 – 1983 – 371 Lexington Ave, then 141 E 45th St
Wild West – late 70s – 1982 – 54 W 33rd St
Guys & Dolls – 1978 – 1982– 151 W 54th St
Moulin Rouge – 1970s – 1609 McDonald Ave, Brooklyn – this isn't confirmed, but ads for it are included in blocks with other Sitzer locations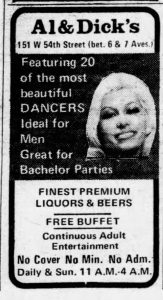 Guys & Dolls Au Go-Go opened in 1978 in what was for the previous 30 years Al & Dick's Steakhouse. Al & Dick's was one of those steakhouses that you only find (or found) in New York City, and maybe Hollywood, which rarely if ever advertising itself, but was always full of folks from the entertainment places nearby. But it seems by the late 1970s A&D's had fallen on hard times and were trying new things out, such as opening a stand-up comedy room. I'm guessing that in 1978 Sitzer sensing an opportunity came in and took over, and out went the steaks and comics, in came the dancers. At first there were both female and male dancers (thus Guys AND Dolls), although the male half of the bill seems to have been abandoned fairly quickly (Sol was rumored to own at least one other all-male club, but we haven't determined which one yet).
Al & Dick's deserves it's own deep-dive, which it will receive, albeit on a sibling blog at a later date.
But King Sol's reign didn't last. In 1981 Sitzer and his brother SIdney were arrested, indicted and charged in a $12 million civil lawsuit by the city for among other items bribing cops, evading taxes, and promoting prostitution through an illegal credit-card gimmick. And if things weren't already bad enough for Sol, in September 1982 he was shot and seriously wounded in front of a Chinese restaurant at 227 E 45th St, with the gunman escaping with Sitzer's brief case which contained $3,000 in cash. His assailant had followed him for several blocks, and when Sitzer became aware of this he tried to duck in to the restaurant, at which point the gunman approached him asking "Are you Sol Sitzer? Give me the attache case". It was rumored that the Genovese crime family was behind the attack as an attempt to scare Sitzer off of their turf. The lawsuit was briefly put on hold while Sitzer recovered, but in August 1983 he and his brother were sentenced on conspiracy and bribery charges, with Sol getting 1.5 to 4.5 years and Sid 5 years probation after both pleaded guilty.
Sol drops off the radar after this, and passed away in March 2016 at the age of 86.
---
---
And on a lighter note, here are those postcards we mentioned, enjoy!