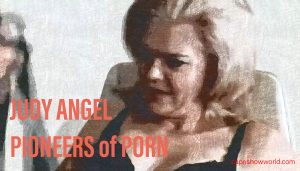 Today, October 24, 2020, would have been Judy Angel's 80th birthday. The name "Judy Angel" is probably not one that many modern punters are familiar with. But in fact she helped pave the way for the modern adult entertainment world as we know it today.
Judy Angel performed in at least two dozen adult films in the span of less than one year, including the groundbreaking MONA THE VIRGIN NYMPH. In this, the first widely-released plot-driven hardcore film (MONA however wasn't "the" first hardcore feature, but it was the tipping point and is generally recognized as the film that opened the flood gates of filth and degeneracy on the silver screen), Judy performed many "firsts":
The first fully-engaged masturbation scene (complete with fully penetrative dildo as well as…well watch it yourself).
The first full-penetration hardcore sex scene (yes, this was Judy and not

Fifi Watson

as many would surmise). And even the first cream-pie scene (the money-shot had not yet become compulsory).
And as the main character's mother who seduces the young boyfriend she also in effect she set the standard for all future MILFs to come. Howard Ziehm, the films producer/director, remembers Judy as "a glamorous fifty-year old, and possibly the first MILF…to work in the porn business".
And yet on the day her scene in HARLOT (another Ziehm flick) was filmed (October 16, 1970 if the mise-en-scene data is accurate) Judy was still just 29 years old. And she wouldn't live to see the end of 1970.
We plan on at least one follow up post delving deeper into just who Judy Angel ("Angel" was her nom-de-porn, she has at least three other "real" last names, all of which we will try to explain in Part II). But for Part I we really just wanted to remember her on her birthday, and offer a few shots from most of her films. These are not in any particular order, because, while we do know they were all filmed in 1970 they released over a few years into the mid-1970s, and no filming order is known to exist.
---
Happy Birthday Judy
---
KID SISTER, aka FRAN'S FRENZY – 1970

KID SISTER, aka FRAN'S FRENZY – 1970

SEX AND THE SINGLE GAY – Judy's first known film. Note: not lost, I just don't have access to a copy yet.

WINTER SPORTS – 1970

TITILATED TEX – 1970 – (lost film)

TITILATED TEX – 1970 – (lost film)

SWEETS FOR THE SUITE – 1970

SWEETS FOR THE SUITE – 1970

SWEETS FOR THE SUITE – 1970

GO DOWN FOR DOUBLE – 1970

GO DOWN FOR DOUBLE – 1970

GO DOWN FOR DOUBLE – 1970

GO DOWN FOR DOUBLE – 1970

GO DOWN FOR DOUBLE – 1970

FROM RUSSIA WITH LUST – 1970 – Lost Film

FROM RUSSIA WITH LUST – 1970 – Lost Film

FROM RUSSIA WITH LUST – 1970 – Lost Film

MONA, THE VIRGIN NYMPH – 1970

MONA, THE VIRGIN NYMPH – 1970

MONA, THE VIRGIN NYMPH – 1970

MONA, THE VIRGIN NYMPH – 1970

MONA, THE VIRGIN NYMPH – 1970

MONA, THE VIRGIN NYMPH – 1970

CASTING CALL – 1971

CASTING CALL – 1971 – Lost? film, or at least I couldn't find it available anywhere; apologies for the crappy picture but it's all I could of Judy in this film, so far.

SATAN'S LUST – 1971

SATAN'S LUST – 1971

SATAN'S LUST – 1971

SATAN'S LUST – 1971

SATAN'S LUST – 1971

SOUTHERN COMFORTS – 1971

SOUTHERN COMFORTS – 1971

SOUTHERN COMFORTS – 1971

SOUTHERN COMFORTS – 1971

HARLOT – 1970

HARLOT – 1970

HARLOT – 1970

HARLOT – 1970

OLE! – 1971

OLE! – 1971

OLE! – 1971

OLE! – 1971

LOVE GAMBLER – 1971

LOVE GAMBLER – 1971

S.M.A.S.H-H. or HOW TO GET HUNG – 1971

S.M.A.S.H-H. or HOW TO GET HUNG – 1971

S.M.A.S.H-H. or HOW TO GET HUNG – 1971

S.M.A.S.H-H. or HOW TO GET HUNG – 1971

NEW GIRL IN TOWN – 1974? (according to iDMB, but more likely 1970/71 release)

NEW GIRL IN TOWN – 1974?

NEW GIRL IN TOWN – 1974?

NEW GIRL IN TOWN – 1974?

SEX CONTEST – 1972

SEX CONTEST – 1972

SEX CONTEST – 1972

ROOM SERVICE (Short?) – 1971

ROOM SERVICE (Short?) – 1971

HOTTER THAN HELL – 1971

HOTTER THAN HELL – 1971

HOTTER THAN HELL – 1971

SAM DOBBS – 1971

SAM DOBBS – 1971

SAM DOBBS – 1971

SAM DOBBS – 1971

SAM DOBBS – 1971

MISSUS LITTLE'S DUDE RANCH – 1971

MISSUS LITTLE'S DUDE RANCH – 1971

MISSUS LITTLE'S DUDE RANCH – 1971

MISSUS LITTLE'S DUDE RANCH – 1971

MISSUS LITTLE'S DUDE RANCH – 1971

MOTEL FOR LOVERS 1972

MOTEL FOR LOVERS 1972

MOTEL FOR LOVERS 1972

MOTEL FOR LOVERS 1972

SEX FREAKS – 1974

SEX FREAKS – 1974

HORNY DOCTORS (loop) – from Vintage Erotica Forum

BOB & CAROL & TED & ALICE & PETE & JOYCE 1971 (from aebn.com)

BOB & CAROL & TED & ALICE & PETE & JOYCE 1971 (from aebn.com)

BOB & CAROL & TED & ALICE & PETE & JOYCE 1971 (from aebn.com)

DRILL DEEP – 1971 – Judy's last film
---
Judy's Films (please let use know if we've missed any)
KID SISTER (FRAN'S FRENZY)
WINTER SPORTS
TITILATED TEX
SWEETS FOR THE SUITE (same, or related to ROOM SERVICE short?)
GO DOWN FOR DOUBLE
FROM RUSSIA WITH LUST
CASTING CALL – trailer only, is full version available?
SATAN'S LUST
SOUTHERN COMFORTS
OLE!
LOVE GAMBLER
S.M.A.S.H.-H.
NEW GIRL IN TOWN
SEX CONTEST
SAM DOBBS
MISSUS LITTLE'S DUDE RANCH
SEX AND THE SINGLE GAY – 1970
DRILL DEEP – 1971 (Last picture, Dir: Ray Harrison)
ROOM SERVICE (short) – 1970
MONA, THE VIRGIN NYMPH – 1970
MOTEL FOR LOVERS (short) – 1970
HOTTER THAN HELL – 1971
HARLOT – 1971
A BOY NAMED DAVID (exists, but not readily available)
SEXUAL LIBERTY NOW – 1971 – listed but I couldn't find her in any scenes
SEX FREAKS – 1972 – brief appearance in first LA Christopher Street West parade
HORNY DOCTORS – 197? – loop [updated 10-31-2020]
BOB, CAROL, TED, ALICE, PETE & JOYCE [updated 10-31-2020]