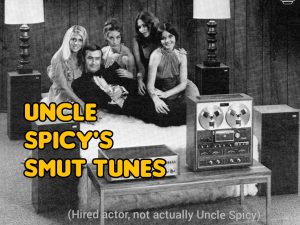 Today we'll be listening instead of looking (sorry folks, Uncle Spicy is in one his moods…), and what we'll be listening two is three tunes from a couple of late 1960s filth films, ELECTRONIC LOVER and THE SPY WHO CAME. We're not going to do a review…ok, twist my arm! So EL was all over the place and not in a good way, and TSWC was actually pretty decent, in fact almost artsy, and I mean that in a good way. As Uncle Spicy would say, "come for LOVER, stay for the SPY!" Yeah, I've given up trying to understand him too...and we're not even going to show any pictures, other than the delicately chosen graphics we've pulled from the films as the background to the music.
---
ELECTRONIC LOVER – Theme
First up we have the opening theme to ELECTRONIC LOVER. You'll be humming this little organ ditty for the next few days (you're welcome). In fact I'd say this is the best part of the entire film, although there is still Uta Erickson…
The soundtrack was credited to "The Fludd". There was a 1970's Canadian group called "The Fludd", and they did put out an album originally called "Cock On!", but I'm not sold it's the same group.
---
THE SPY WHO CAME – Main Theme
Next up we have the main, opening theme to THE SPY WHO CAME, a Lou Campa film that is worth a once through (actually a twice through, there's a nice little touch at the beginning you won't catch until the second time around…). This one has a pounding rhythm to it and really sets the mood for the film to come.
---
THE SPY WHO CAME – Closing Theme
Finally we have the very haunting Closing Theme to THE SPY WHO CAME which feels almost european in flavor, and leaves me wanting more (and isn't that how a good smut film is supposed to end?). I wouldn't be surprised if both of these were from a Music Library, but man I wished I could get my hands on more of it!
---
We hope you enjoyed this little auditory jaunt. By the way, both films are available on a double-feature DVD from Something Weird Video, and it's one that you can still get in physical form from them!
Tell 'em Spicy sent ya!