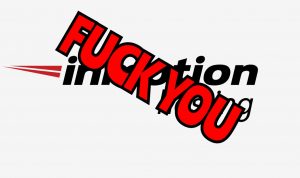 Late this past Friday afternoon the Capri Show World Center webmaster (he takes this role very seriously: he doesn't have to wear a leather hood, but he does) received an email from our now-former hosting provider (we previously referred to them as our hosting partner), in which we were informed that, well read it for yourself:
Let's break this down a bit.
First, yep, guilty. We here at Capri Show World Center celebrate all things vintage smut. However when we originally signed on with the now-former-hosting-provider this was NOT a condition, otherwise we would not have chosen them. Further, this now obviously IS a condition, so this means it was snuck in at some point in the last six years (the last time the CSWC Legal Team reviewed the T&Cs). And to erase any doubt, as well as to nail-home their incredibly over-reaching scope of what is NOT allowed on their precious little hosting platform, here's the particular section of their "Acceptable Use Policy and Content" (we will point out that they are missing a rather important comma between "pornography" and nudity, but we do give them kudos for the Oxford comma later in the sentence):
Moving on to our second point, the fact that they go out of their way to make it clear they they "do not engage in debate as to what constitutes art and what falls into the realm of pornography" pretty much sealed the deal on us jumping ship. Even if this had been a mistake on their part, which again we admit it wasn't, this would have been a major RED FLAG OF FASCISM and we would have jumped anyway. To not even entertain a discussion on something like this is one of the most closed-minded business models I've seen this century, even EBAY in it's mass deletion of their Adults-Only category allowed for remediation.
Third, they sent this to us at 5:45 PM on a FRIDAY, and gave us 72 hours to address this, or risk having our entire account terminated (we do have other sites on there as well, but not for long…). So here's the thing on this one: that 72 hours started at 5:45 PM on Friday, but further down they say their "office hours are from 9 AM to 9 PM, Monday through Friday" and that if we did want clarification (not debate) then we should "allow 1-2 business days to receive your response". So in effect there leave no opportunity to even suggest they could be in error. We know this because in the last month we were hit with an unrelated item from this now-former-hosting-provider, again late on a Friday, and again with a 72 hours window. So we now see a trend, which given their already proven FASCIST approach to Business should come as no surprise.
In any case, we've now fully moved all of the Capri Show World Center website to a new hosting PARTNER, one which will not get in our way or infringe on our freedoms in any way (it's actually us and our server is sitting in the Capri Show World Center basement). And by the end of the month we will have also moved the rest of our footprint away from that fascist company and canceled our account, after six years, all but the last month of which has been actually very satisfactory.